"Kindness is the language which the deaf can hear and the blind can see."

Mark Twain
WHY HEARING IS A LION'S CAUSE
Children with hearing impairment can experience delays in the development of speech, language and cognitive skills.
In adults, hearing impairment and deafness can make it difficult to obtain and keep employment.
Hearing impaired children and adults are often socially stigmatized and isolated.
Helping People Hear The Sounds of The World
The Saratoga Springs Lions Club goal is to improve the quality of life for the deaf and hard-of-hearing by enabling fuller functioning at home and in society.
Saratoga Springs Lion's Hearing Initiatives Overview
Founded and Administrates Affordable Hearing Aids Program for those financially qualified.
Supports and promotes a "lending library" of assistive listening devices, available free of charge through the Saratoga Hearing Center.
Sponsors Saratoga Hard of Hearing, a support group for those with hearing problems.
Funded a theater-quality FM system at the Saratoga Arts Center, an FM system for the Academy for Lifelong Learning, and pocket talkers to enhance the hearing ability of residents at the Wesley Health Center and the Community Hospice Center, and patients at Saratoga Hospital.
On a regional level, the Saratoga Springs Lions Club was instrumental in the formation of the Lions Hearing Conservation Society.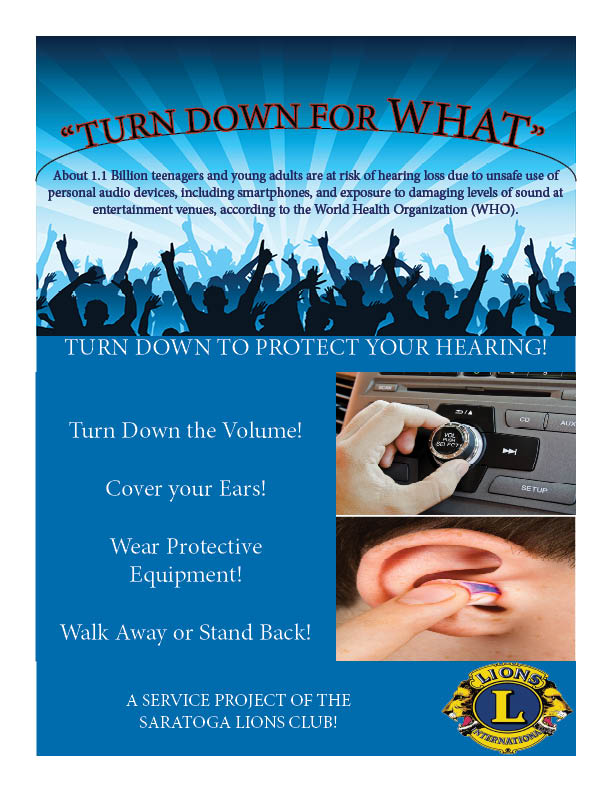 "Turn down for WHAT"  is a teaching presentation to teenager ages young adults.  For more information about this program and to set up a presentation please contact our Hearing Chairman, info below!
 FOR INFORMATION ON LIONS HEARING PROGRAMS CONTACT GRADY ARONSTAMM  518-260-3102
Get More Info On Hearing World Health Organization
Hearing Conservation Tips Click Here