6th Annual Night at The Brewseum – 4/21/17
BUY TICKETS HERE!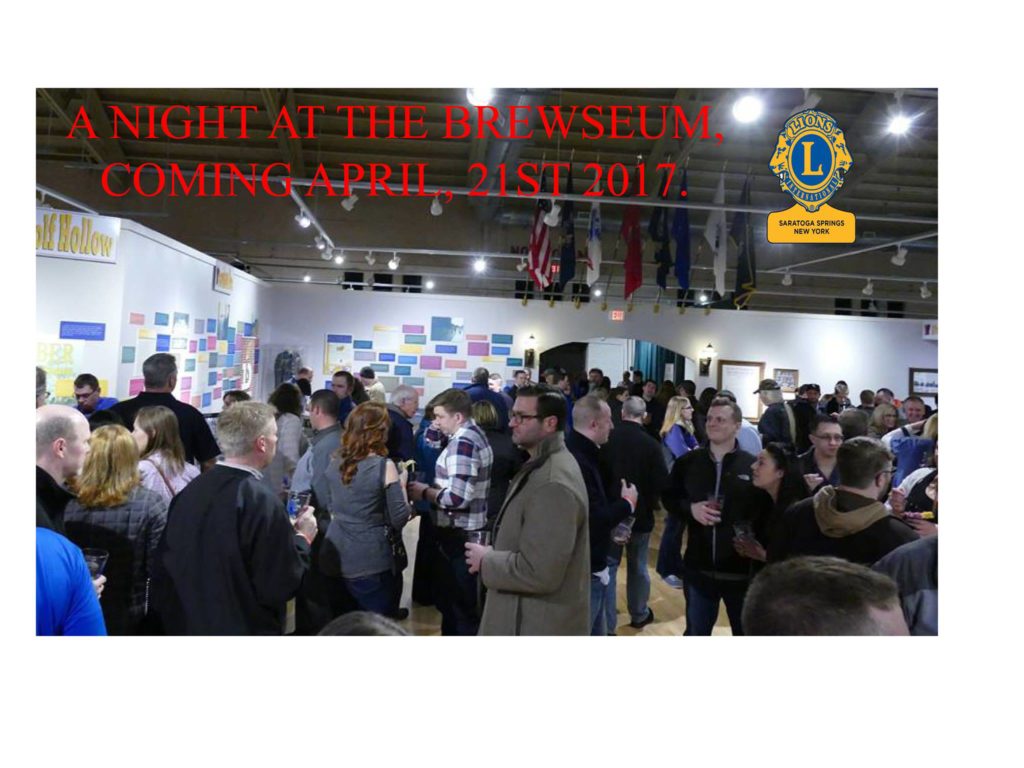 The Saratoga Springs Lions Club appreciates your help in furthering our Mission Goals in Sight, Hearing, Diabetes, Youth and Community. 100% of our fundraising profits go back to our Mission!
We also would like to Thank the New York State Military Museum for partnering with us again for another successful year!
Please see below for information on your favorite sponsors and vendors!
#nightatthebrewseum17
2017 Vendors will be updated in the next few months!
2016 VENDORS:
BREWERIES:
DRUTHERS BREWING COMPANY BROWNS BREWING CO.
OLDE SARATOGA BREWING CO. DAVIDSON BROTHERS BREWERY
ADK PUB & BREWERY HENRY STREET TAPROOM
STEADFAST BEER CO. BLUE LINE BREWING CO.
WOLF HOLLOW BREWERY ARGYLE BREWING CO.
SHMALTZ BREWING CO. COMMON ROOTS BREWING CO.
CHATHAM BREWERY MAD JACK BREWERY
PARADOX BREWERY RS TAYLOR BREWING
CIDER:
WINERIES:
ADIRONDACK WINERY LEDGE ROCK HILL WINERY
FREDERICK WILDMAN & SONS SARATOGA WINERY
RESTAURANTS:
WATER:
MANY, MANY THANKS TO OUR SPONSORS:
LAGER SPONSORS:
PALE ALE SPONSORS:
Raffle Prize Options for 2017: Drop Bucket Raffle: Coming Soon.